Thought I would fill you guys up on some information about the sexy women of Starcraft 2
Sarah Kerrigan
First Chapter
So she was a girl with a tough childhood, running around blowing off her mum's head and damaging her fathers brain. Then the Confederacy found out she has powers and kidnapped her and stuff. Then they tortured her for a while, trying find out the limits of her powers. She refused to cooperate so they injected a tumour into a kitten (sarah loves cats). Then she was told to kill the cat or kill the tumour and stuff. She says no, and then they try the same thing with her dad. Then some stuff happens and she is under the power of the confederacy. Then she is a ghost and does some missions, killing some stuff.
Second Chapter
Kerrigan gets captured by Mengsk and then she's on the Hyperion and stuff. Then she sides with them and gets to know Jimmy Rainor. Then some other stuff happen and shes stuck on Tarsonis and the Zerg capture her.
Third Chapter
She's chilling in an egg sack.
Fourth Chapter
She emerges from the eggsack and shes full powerful and stuff. She has heaps of powers and goes around killing protoss and terran.
Fifth Chapter
Jim Rainer finds bunches of rocks and de-infests Kerrigan. Then he carries her outside.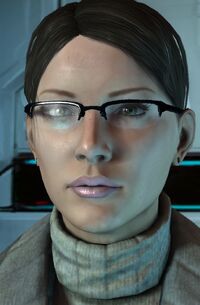 Dr. Ariel Hanson
She was heaps smart when she was young, and when she's older, she's still pretty smart. Then she wants help from JiM Rainor or something and then she's on the Hyperion. Then you can choose to save her colony, where she gives you a kiss on the cheek, or you can kill her people and she becomes a zerg.
What I dont understand is that, why doesnt she retain her beauty when she is infested, like Sarah Kerrigan?
Other Female characters: Nova, a ghost who kills people. Kate Lockwell, a news reporter. Woman in bar #1, Woman in bar #2. Thats about it.
Thanks for reading.
Oh wait, Selendis is a woman? or not.